The early springtime period here is known as the Park City mud season. The description is as apt as it is simple: due to the melting snow and the temperatures not yet high enough to dry things out, the area around Park City gets a little muddy.
This, traditionally, makes for something of a slow season for Park City and for doing any of the outdoor activities traditionally associated with the area. There is no opportunity to ski during this time (the resorts are closed and the snow is melting) and summer activities like hiking and biking are difficult, if not impossible-due to the large volumes of mud on the trails.
However, mud season in Park City isn't a total write-off. There are plenty of activities that you can enjoy during this time, so don't be put off by the mud! Here are the best things you can do in Park City during mud season.
Enjoy the Restaurants
Park City has no shortage of excellent restaurants, but during the winter or summer seasons, they can be packed to the rafters with seasonal diners, and it can consequently be very difficult to reserve a table. In addition, because they're in such high demand, prices can be a little higher than they otherwise would be.
During mud season, however, there are far fewer people around. Not only does this make it easy to grab a table at your restaurant of choice, but it also means that a great many of the restaurants are offering discounts in a bid to get patrons through the door. All of this is great for you, and means that you should very much be taking advantage of some of the amazing food on offer in Park City!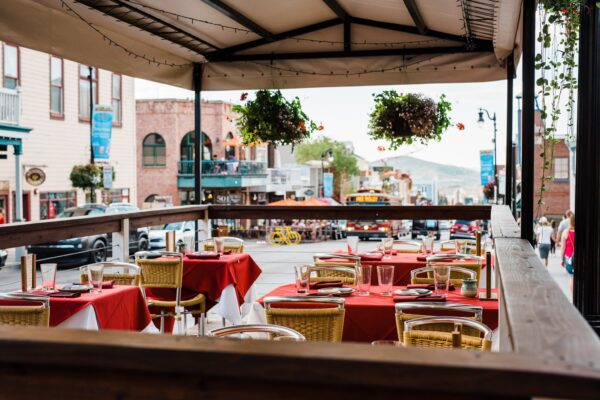 Take in a Movie or a Show
Skiing and much of the biking/hiking trails might be out during mud season, but that doesn't rule out some great indoor activities in the city itself.
Park City Film Series is one of the best places in town to check out movies that you might not otherwise consider. This independent, non-profit arthouse cinema screens a lot of small indie and foreign-language movies, and can make for an interesting (and inexpensive) night out.
If movies aren't your cup of tea, you might consider heading over to Park City's legendary Egyptian Theatre. Open since 1926, the Egyptian Theatre was named for the then-recent discovery of Tutankhamun's Tomb, and was the spiritual successor to the city's previous two theaters – lost to fire and heavy snowfall, respectively.
The Egyptian Theatre operates year-round, but they go all-out during mud season to accommodate both locals and visitors, with a great selection of amateur theater troupes putting on shows. The legendary Park City Follies also takes place over April and June, with a wide selection of side-splitting comedy shorts to keep theatergoers entertained.
Outdoor Activities Are Still Possible
Spring in Park City might seem like a washout because of all the mud, but the fact is that there's still plenty of outdoor activities for any intrepid adventurers out there.
Guardsman Pass, for instance, retains snow for longer than lower-lying areas around it, and makes for a great snowshoeing adventure for those who are more physically fit. The Historic Rail Trail also dries out more quickly than other trails in the area, making it an early candidate for a spring bike ride.
Other outdoor activities you might consider during the Park City spring season are kayaking and white-water rafting on one of the many lakes or rivers in the vicinity.
In addition, spring is a great time for birding. With many species of birds migrating at this time, it's a fantastic opportunity to watch flocks of birds soaring overhead as they return from wintering elsewhere. A popular birding spot is Fish Springs, found on the Pony Express Trail.
Explore Park City's Main Street
If you're not willing to risk the mud outside, there is no small number of things to do right along Main Street.
In addition to the array of discounted fine dining options and the ability to take in a movie or a show, there are some great shopping opportunities all down Main Street. And because it's off-season, plenty of them feature generous discounts. This means you can shop 'til you drop without breaking the bank.
Related Post: A Day on Park City Main Street »
Those interested in the city's history, meanwhile, will find much to love in Main Street's Park City Museum. This museum opened its doors in 1981 and delves deep into the mountain town's rich and diverse history, going all the way back to the mid-19th century when Mormon pilgrims passed through on their way to the site where they would found Salt Lake City.
The museum is a great day out for adults and kids alike. There's a great activity to keep the little ones engaged, in fact – the "Park City History Detectives" challenges kids to keep their eyes and ears open throughout the museum in order to uncover clues about the history of the town. Adults will also be gripped by the fascinating story behind the founding of Park City, its incorporation as a city in the late 19th century, and its rich tradition of gold and silver mining.
Whatever you're in the mood for down Main Street, then, you're sure to find something that scratches that itch!
Conclusion
Though it can be initially easy to write off Park City's mud season, the fact is that there is plenty to do both in town and out during the muddy spring. It might be the best time of year to catch a show or an indie movie, and the discounts in many of the restaurants make for some great eating without breaking the bank.
And as we've seen, a few muddy trails doesn't preclude getting out there into the great outdoors. Snowshoeing, biking, and water sports are all still on the table, and there isn't a better time for checking out Utah's migrating bird flocks!
Explore our Park City Vacation Rentals
No matter what you decide to do during your visit to Park City, we have the perfect vacation rental for you!
Related Articles
Our Picks for Mountain Bike Rentals Park City
Deer Valley Ski Resort, Park City, Utah: An Overview