Hiking in Park City
Choosing the best hike in Park City to satisfy your craving for adventure can be tough because Park City is crisscrossed and surrounded by some of the most spectacular trails in Utah.
Fortunately, we've got a list of the 7 best hikes in Park City right here! Let's jump right into it:
Best Hike for an Epic Adventure: Mid-Mountain Trail
The view looking back at Park City from the trail // source: hikingproject.com
If you're only going to hike one trail in Park City, make it this one. The Mid-Mountain Trail is a 23-mile trek that will take you all the way from Deer Valley past Kimball Junction, showing you the entirety of the Park City area in one trip.
It climbs. It descends. It will take you through pines, into aspens, over bare rock, and across quiet meadows. You'll make your way across the runs at all three major ski areas and look down on the city from multiple vantage points.
The trail is difficult, but not punishingly so. A whole day is definitely needed to experience the entire trail in one session on foot. One thing that is particularly nice about this trail is that it can be broken up into smaller chunks if you don't want to tackle it all in one go. Each leg feels like a meaningful experience on its own. You can devote an entire week to the experience if you prefer a more leisurely pace.
Mid-Mountain Trail on AllTrails.com »

Best Hike for a Day at the Lake: Bloods Lake
Coming up on the lake from the trail // source: Olivia Hutcherson
Hitting the lake is the closest most Utahns get to a day at the beach. There are several beautiful lakes in the Park City area, but one of our favorites is Bloods Lake. We've written about it in detail before. The lake itself has a beautiful color, cold snow-melt waters, an interesting shoreline, and plenty of open space for lounging, playing, and dining.
The hike out to the lake isn't particularly long or challenging, which leaves you plenty of time and energy for fun once you arrive. That said, the short trek offers you a pleasant sampler.
You get a meadow, some aspens, switchbacks, and even a selection of boulders. Once the trail levels out, it opens onto the lake. You could spend the rest of your day right here.
Bonus: If you want more hiking and another lake, you can push on to rugged Lackawaxen Lake. This second lake sits a little higher up, and the trail offers steep climbing, more meadows, and a striking boulder field. Lackawaxen Lake is a stark contrast to Bloods Lake, showing more bare stone and fallen trees than the latter's densely wooded shore and placid waters.
Bloods Lake Trail on AllTrails.com »

Best Hike for a Picnic: Armstrong Trail
Armstrong Trail is one of the most famous hikes in town. It's the total package. It is relatively short, measuring just 3.8 miles. It has gorgeous views of native flowers, aspen forests, and Park City. It is open to hikers, bikers, humans, and canines alike. And it is right in the middle in terms of difficulty.
Pack your picnic basket and bring the full spread right onto the trail. With so many beautiful sights to see along the trail, you can stop off for a scenic meal wherever you like. For maximum beauty, we suggest a rich autumn meal in sight of Park City's breathtaking aspen forests as the leaves put on an unbelievable show for your dinner. In the spring, you can dine in a flowering meadow surrounded by Indian paintbrush and columbines. Or sit back and contemplate Park City's bygone days while snacking next to abandoned mining equipment and looking down on the town.
A view of the aspens in the fall on the Armstrong Trail
However you choose to picnic, be a responsible steward of the earth by removing every scrap of food and packaging on your way out. Give a hoot, don't pollute our pristine wilderness!
Armstrong Trail on AllTrails.com »

Best Hike for an Off-Leash Dog: Run-A-Muk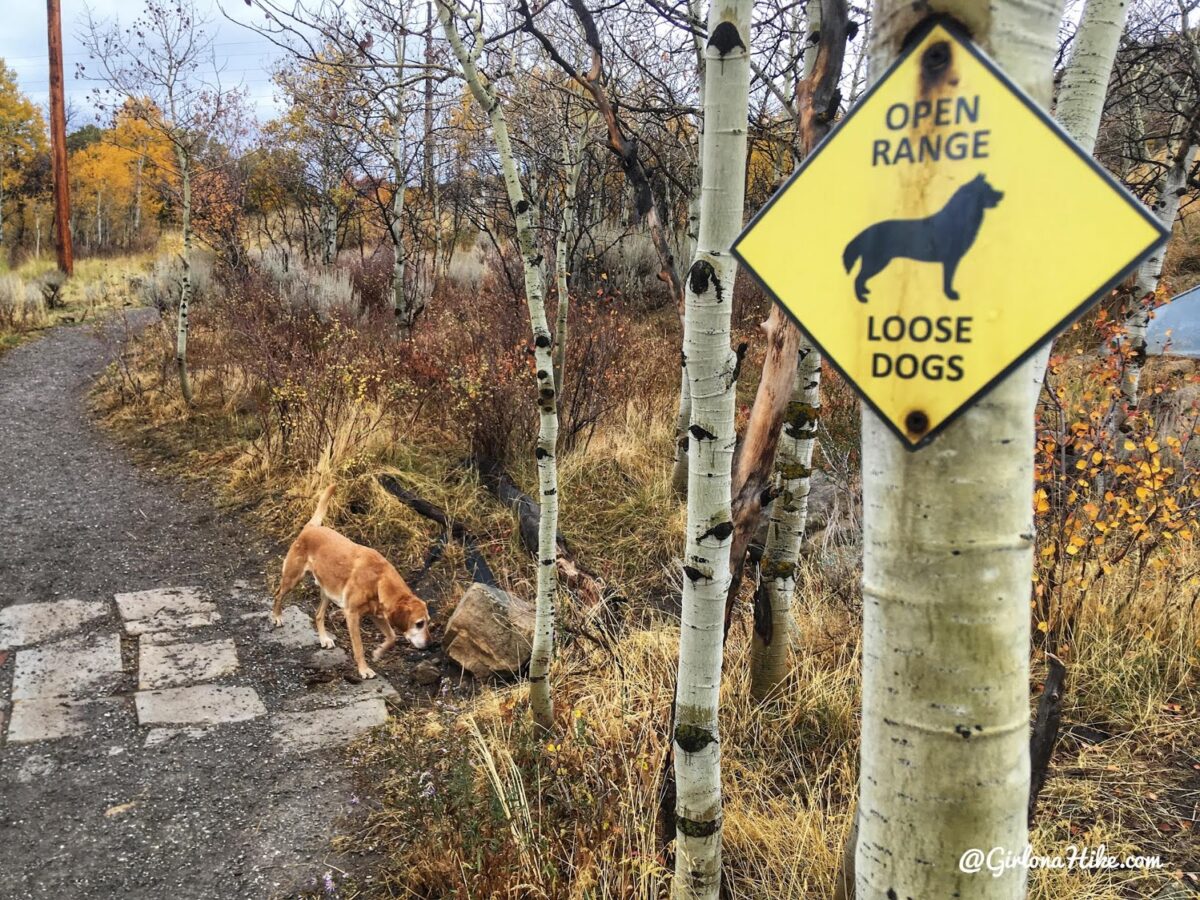 Dogs running amok on the Run-A-Muk trail // source: girlsonahike.com
It's no secret that Parkites love their dogs. You might have even heard us referred to as "Bark City." Most of the time, though, pets must be on a leash while exploring the town. But every dog has its day, and there are a few designated areas around Park City where dogs can run, play, and experience the great outdoors without a leash in sight. One of our favorite off-leash areas is the Run-A-Muk dog park and trail.
This enormous doggy playground is located in Kimball Junction, in the shadow of Utah Olympic Park. In fact, it is just on the other side of our very own Bear Hollow Village. The trail is a leisurely loop around the highland scrub, aspens, and meadows surrounding Kimball Junction.
The entire time, you'll have a lovely view of  Utah Olympic Park. While there is a small stream in the trail area, you will probably want to bring some water along to keep your pup hydrated. As you make your way around the circuit, your four-legged friend is free to do anything they like. There are plenty of interesting smells to explore, trees to mark, and new friends to make. Your fur baby will have so much fun they'll beg to come back again and again.
While we absolutely love dogs, they're not permitted in our rental units, as each one is privately owned.
Run-A-Muk Trail Area on BasicRecreation.com »

Best Hike for an Easy Walk With the Kids: McPolin Nature Trail
McPolin Barn rising over the trees // source: Olivia Hutcherson
McPolin Barn is one of the most famous buildings in Park City. The huge white structure rises over the surrounding basin, a major landmark on the highway between Kimball Junction and downtown Park City. The nature trail that shares its name is the perfect way to introduce even young children to the joys of hiking.
The hike starts at a parking lot just off the highway, where you will make your way through a colorfully painted pedestrian tunnel before exploring the meadow. A path meanders over a burbling brook, around the barn, and through aspen thickets.
To help your little ones stay invested and learn more, a series of 11 interpretive plaques line the trail. These signs include interesting information that supplements the natural beauty all around for a fun, educational outing. The route itself is pretty flat and wraps up in less than two miles for a complete loop. If young hikers need a rest or a snack, take a breather on several benches beside the path.
McPolin Nature Trail on AllTrails.com »

Best Hike for a History Lesson: Union Pacific Rail Trail
More than just a trail, the Union Pacific Rail Trail is a state park. It is just under 30 miles long and represents a long, snaking course through Park City and surrounding communities. The trail is also notable for the vast number of activities on offer. You can hike, bike, cross-country ski, and ride horseback-among others. Anything non-motorized is fair game. Three miles of the trail, the length that runs through downtown Park City, are paved. The rest is gravel, but well kept and wide.
As the name might suggest, the entire trail used to be part of a rail network running through the area. Coal once came down from Coalville (naturally) by narrow-gauge rail into town to service the pumps necessary to mine silver out of the hills surrounding Park City. That same course was then used to guide the wide-gauge cars necessary to bring the silver out of town. After Union Pacific abandoned the whole endeavor in 1989, it was converted into this gorgeous trail system.
The old rail bridge over the road // image credit: stateparks.utah.gov
Additional historical markers expound on the history of the trail, tracing the routes of early Mormon settlers and even the ill-fated Donner Party. Hiking the trail is a true walk through Park City's history, and you'll step away from your time enriched with local facts.
Union Pacific Rail Trail on AllTrails.com »

Best Hike for a Panoramic View: Silver Lake Trail
Panoramic vistas of Jordanelle Reservoir // source: KSL.com
Mountains surround Park City on every side. Bald Mountain is an especially striking peak, and this trail along its backside offers some of the most beautiful views in the area. This foot-only voyage provides you two different experiences. You can either take the lift to the top and hike down, or you can hike up and take the lift down.
While more challenging, the hike upward offers a more satisfying journey. The Jordanelle Reservoir and the Uintas slowly come into view as you ascend until you reach the top and look out over what seems like the whole world. Then, once you've soaked up enough panoramic perfection, you will be slowly ushered back down to Deer Valley on the relaxing lift, watching as the vistas quietly retreat over the hills once more.
As an extra tip, the resort has made hiking sticks available to guests for use on the trail. They can really help you as you make the steep ascent.
Silver Lake Trail on AllTrails.com »

Somewhere to Rest and Recuperate
All that hiking can take it out of you. All Seasons Resort Lodging offers Park City's largest selection of condominiums, townhomes, and vacation residences, each one perfectly equipped to help soothe your sore muscles and aching bones. After a hard day's hike, make sure to get a good night's rest in one of our vacation rentals before setting out to tackle another mountain adventure. Book your hiking getaway today.
Related Articles
Tips for Handling Park City Elevation
Things to Do During Park City's Mud Season
Our Picks for Mountain Bike Rentals Park City
Deer Valley Ski Resort, Park City, Utah: An Overview