Apex Residences Park City
Description
Bask on the sunny slopes above Canyons Village at Apex Residences, Park City rentals, a luxurious ski-through development with ski-in/ski-out lodging with access to the Orange Bubble Express lift and the Red Pine gondola. These exquisite, newly constructed luxury townhomes offer breathtaking beauty and world-class features on every floor.
Go up the elevator and step off your porch onto the run to ski the day away, or spoil yourself with the in-room amenities. Apex elevates your stay with uncompromising excellence—no matter how you choose to experience it.
Apex has everything to offer as the newest luxury condo development on the hillside above Park City's most exciting ski base. The list of amenities and in-home features in this brand-new community reads like a checklist for the perfect dream vacation—because that's exactly what it is. Every thought has been taken, and no expense has been spared in creating the perfect ski-in/ski-out destination for your epic Canyons Village Park City adventure.
Common Area Amenities
On top of the perfect location, beautiful homes, and premier ski access, Apex Park City provides a multitude of outstanding community amenities for your enjoyment. The community center is home to an outdoor pool, hot tubs, fire pit, splash pad, and seating, plus an indoor sauna, steam room, fitness center, and lounge space.
The outdoor pool is 50 feet long and heated for year-round relaxation. One of the two outdoor hot tubs has an infinity edge that brings guests right to the edge of the deck, highlighting the spectacular mountain views.
A game room will entertain kids and the young at heart for the afternoon. In the meantime, those seeking tranquility can find it in the on-site spa treatment rooms.
If you need a little help to get the most out of your visit, consult the on-site concierge for bespoke local recommendations and additional services. The concierge will help you with everything from dinner reservations and activity suggestions to procuring a private chef or arranging a babysitter.
A private shuttle conveys guests to destinations all around the greater Park City area, including Deer Valley. Guests are even treated to a light breakfast and aprés ski refreshments during the ski season at the clubhouse.
Private parking is provided in a secure garage beneath the complex with direct-to-door access to your accommodations.
Use our Park City Adventure Guide to plan your adventure to Park City!
+
5

more photos
Amenities
Air Conditioning
Electric Fireplace
Hair Dryer
Iron/Ironing Board
Washer and Dryer
Coffee Maker
Full Kitchen
Microwave
Dining Area
Linens Provided
Living Area
Private Bedrooms
Balcony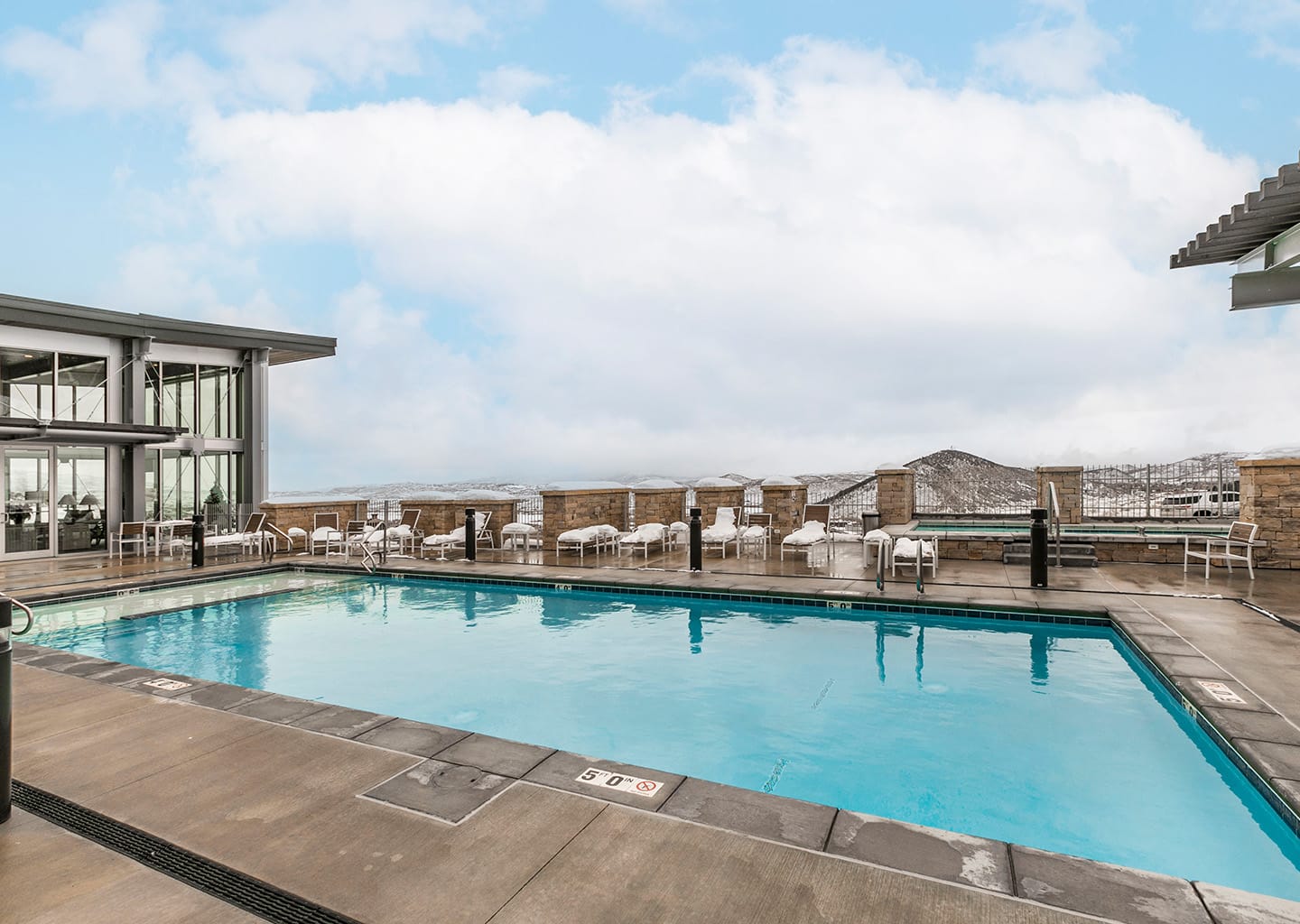 Browse Our Apex Residences Park City Rentals Below:
Unable to find any listings.
What is the Residence Collection?
Each home in the All Seasons Resort Lodging Residence Collection is unique. When you select one of these homes, you choose the specific unit you see in the photos. You know exactly what to expect—a perfect stay. Reservations in most of our properties are assigned to one of several broadly similar units based on availability, which may vary in furnishings and decor.
Guests staying in a Residence Collection unit also have direct-to-door check-in—we send you a door code a few days before you arrive, and you check in any time after 4:00 p.m.
Canyons Village Connect
Complimentary on-demand guest transportation is available at this property, courtesy of the free Canyons Village Connect service. Use the Canyons Village Connect app to request direct-to-door rides to and from the ski base and Canyons Village destinations.
Service is available during ski season dates of operation from 7 AM to 10 PM. The official app is available on app stores.
CANYONS VILLAGE Q&A
CAN I SKI RIGHT TO MY DOOR AT APEX RESIDENCES?
Yes! You can ski right to your door at Apex Residences because a ski bridge connects the Retreat Ski Run to a private ski trail, giving access to your lodging.
WHAT DOES THE APEX CLUBHOUSE OFFER?
The clubhouse at Apex Residences in Park City features the following luxury amenities:
A 50-foot outdoor heated pool
2 outdoor hot tubs, one with an infinity edge to allow for dramatic mountain views
A relaxing fire pit and several conversation areas
A splash pad
A large, bright fitness center
A gameroom for all ages
Spa treatment rooms
WHERE IS APEX RESIDENCES IN PARK CITY?
The Apex Residences are located above Canyons Village in Park City, Utah. You'll enjoy true ski-in / ski-out convenience.
Where you'll stay
Similar Park City Hotels
Explore the allure of Canyons Village Park City hotels like Vintage on the Strand and LIFT Park City. These accommodations seamlessly blend comfort with proximity to the slopes. Immerse yourself in the mountain ambiance, featuring premier skiing access and enticing amenities such as warm fireplaces, inviting hot tubs, and convenient après-ski activities. Whether you choose Vintage on the Strand or LIFT Park City, both establishments offer a perfect fusion of alpine luxury and easy access to the vibrant atmosphere of Canyons Village Park City's mountain scene.
WHAT'S IT LIKE STAYING IN AN ALL SEASONS RESORT LODGING PROPERTY?
Reservation Policies
When booking, a 20% deposit is required upfront, with the final balance due 30 days before your arrival. Cancellations can be made within 48 hours of booking for reservations more than 32 days before arrival without penalties. Reservations canceled at least 30 days before arrival will forfeit the 20% deposit, while those canceled within 30 days are non-refundable. No refunds are available after the final payment, even for date changes. Consider purchasing the Travel Protection Plan for full refunds in unforeseeable circumstances. Bookings within 30 days of the stay must be fully paid upfront and are nonrefundable. Due to careful scheduling, late payments result in reservation cancellation, and no partial refunds are granted for early departures or late arrivals.
Travel Protection Plan
We highly recommend purchasing our Travel Protection Plan within 48 hours of making your reservation. The Travel Protection Plan enables you to receive a full refund of all payments should you need to cancel your reservation due to certain unforeseeable circumstances.
Learn More About Our Travel Protection Plan »