Our Park City Vacation Rentals
There's a special feeling you get when you're staying in a Park City vacation rental rather than just renting a hotel room—especially when it's somewhere as special as the mountain town of Park City, Utah. It feels more like your home away from home and allows you to be more connected to the place you're visiting. In the case of our Park City lodging rentals, you'll really feel that sense of connection because Park City is where our company was founded. We've been in business since 1999, so we know our stuff.
In addition to having a large selection of vacation rentals in popular areas like Park City Mountain Resort's Mountain Village and Canyons Village, we also offer the Lowest Rate Guarantee. If you find a lower rate for the same dates on another site, we'll honor that rate for you and give you an extra 10% off.
Want to cancel your reservation within the first 48 hours of booking? No problem! We won't charge any cancellation fees whatsoever if you change your mind.
If you're returning to Park City after staying with us before, you'll get save 10% off your Park City Lodging stay just by booking with us again!
Plan Your Park City Adventure
If there's one thing that Park City, UT is known for, it's the adventure that lies just outside your doorstep. And it's easy to get here, too! Situated just 30 minutes from Salt Lake City, Park City's unique location makes hopping off the plane and getting on the slopes possible in under an hour.
Everybody knows that Utah has the Greatest Snow on Earth®. What you may not know is that Park City enjoys some of the best weather in the country during the summer months, too. The combination makes us a year-round vacation destination—not just a winter ski town. In this Park City area guide we will share all you need to know to help plan your visit to Park City, no matter the season.
Beyond the endless outdoor recreation options, Park City's Historic Main Street shouldn't be missed. Lined with shops and restaurants, this picturesque downtown area is home to 64 buildings on the National Register of Historic Places. There are still hints all over the downtown area to the early days and mining history of Park City. Home to brilliant restaurants and beautiful galleries, you can even spot the works of Banksy—the famous British street artist—on a couple of Main Street walls.
Park City is the All-Seasons Destination of your Dreams
Our deep snow and world-famous resorts may have earned us the title of Winter's Favorite Town, but Park City is actually a four-season outdoor playground with something to offer every traveler. Whether it's a classic ski weekend or a morning of hot-air ballooning, there's always something to discover in Park City.
Explore our Park City Lodging
Winter sports are Park City's specialty. Home to three world-class resorts, Park City is best known for an abundance of skiing and snowboarding. We're also home to Olympic-quality facilities for Nordic jumping, bobsledding, and ice skating.
Get to Know Park City's Ski Resorts
Park City Mountain Resort
Park City Mountain Resort is the single largest ski and snowboard resort in the United States is right here in Park City. With more than 7,300 acres of terrain and almost 40 lifts, Park City Mountain Resort is a winter sport wonderland that spans two major base areas and dozens of trails, bowls, parks, and other features that will keep you entertained for weeks at a time.
The resort is comprised of two sections, each with its own base areas: Mountain Village and Canyons Village.
The original Park City ski experience, the Park City Mountain Resort base is still the town's best-known and most beloved ski area. Hundreds of runs served by dozens of lifts cover the largest resort in North America. With easy access to historic Main Street, Park City Mountain is also a gateway to the alpine charms of the downtown area.
A fast-growing ski destination, Canyons Village is a bustling community built around a vibrant plaza. World-class skiing meets year-round entertainment for a resort experience like no other. Explore a collection of shops and restaurants when you aren't enjoying pristine runs, open-air concerts, or luxury spa experiences.
The Deer Valley Resort is world-renowned for its secluded terrain and tree skiing, this skis-only resort offers its guests the very best in winter sports, fine dining, and natural splendor. Marvel at the untouched old-growth backcountry or make first tracks on impeccably groomed runs above the valley floor. It's the perfect marriage of rustic beauty and luxury comfort.
Named the US's best ski resort by Condé Nast Traveler, Deer Valley offers the ultimate family skiing experience and is perfect for novices and experts alike. About a quarter of the resort's slopes are rated "green" and there are many designated slow ski areas. For those seeking a challenge, Deer Valley boasts four "black" runs and six "double black" runs. There's something for every ability level at Deer Valley!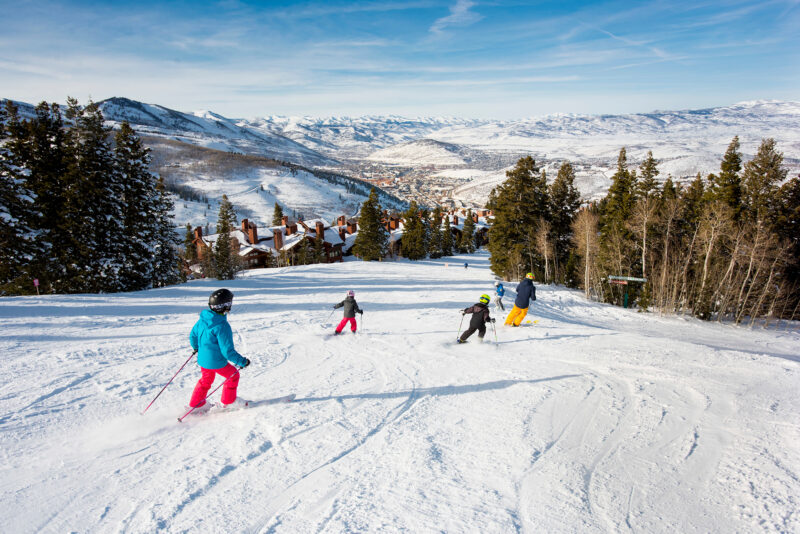 The fun isn't over when the sun comes out. Early spring is perfect for late-season skiing, a lively après scene, or a visit to Woodward Park City. There's plenty to enjoy in Park City in the Spring. May is the perfect month to visit for a relaxing getaway when the town is quieter. After the snow is gone the ski trails turn into the best trails for mountain biking. You can always rent a bike locally or take in the views with a great hike. If you're looking to recharge there is no better place to unwind with a massage or just stop by for a cool staycation—complete with lazy breakfasts and a taste of Main Street nightlife.
Check out our Park City Spring Break guide for some trip inspiration!
Get your fill of adventure during summer in Park City! Summer is a great time to visit Park City! While the sun is strongest at lower elevations, the climate in this mountain destination can be around 75 to 83 degrees. Park City's warmer season lasts from June to September.  There's no shortage of summer activities in Park City. Go hiking, mountain biking—even horseback riding—on hundreds of miles of gorgeous trails. Park City is also home to several excellent public golf courses and offers easy access to Jordanelle Reservoir for all the watersports you love. Park City is just as exciting in the summer as it is under a blanket of snow. A Park City summer vacation is something that everyone should experience!
Park City in the fall is breathtaking. The slopes blaze with fall colors and the heat fades, making it the perfect season to hike the mountains for a scenic view and wander Historic Main Street. Start your holiday shopping early, take a gallery stroll, or taste something unique while you explore downtown Park City. Looking for some Park City fall activities? Check out our Park City Fall Family Fun guide for some ideas.
Love the sounds of the leaves crunching under your feet as you look up at the brilliant fall colors? You're going to love hiking in Park City. We've hand-picked 7 of the best Park City hikes for all experience levels.
Traveling to Park City, Utah
The easiest way to travel to Park City is by flying into Salt Lake City. Touch down in the valley, grab a car, and reach the resorts in less than an hour. It's a straight shot east through Parley's Canyon on I-80. But it isn't the only way to travel to Park City. You can get here on an epic road trip from anywhere in North America. Fortunately, we have a full Park City travel guide that will help you plan your itinerary.
Weather in Park City, Utah
Book Your Next Park City Vacation!